CARE GUIDE
We feel like there is so much pressure to reinvent oneself with every season. This is unfortunate, since ATP Atelier products are meant to be worn for many years. So obviously, we're aiming to change this. This care guide is our first step!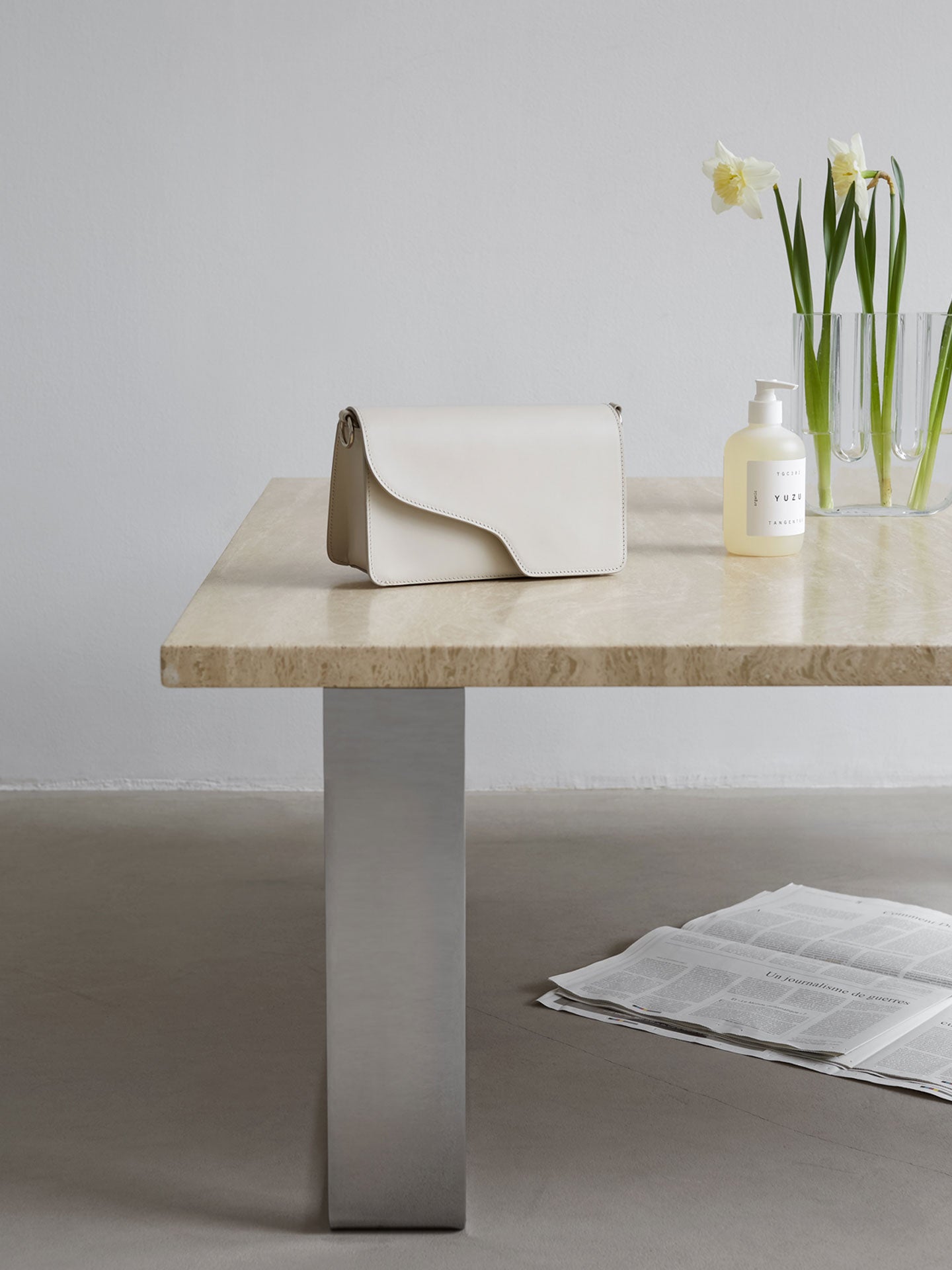 KEEP YOUR ITEMS CLEAN!
The easiest way to keep your items feeling like their best self, is to simply keep them clean. This will also make them last longer. Brush the leather with a damp cloth (not soaked) from time to time. They're dirtier than you think, promise!
GREASE
The most common mistake people make when taking care of their leather items is they use too much fat, to the point where the material can't absorb it and is damaged instead. If your shoes or bag feels dry or dull, start small, you need less grease than you probably think! Apply a small amount of cream on a cotton cloth and work it in to the leather in circular motions, 2 – 3 cm at a time, until the cream is fully absorbed. If your leather sole is starting to wear out – apply some there too. And for bags, avoid using colored leather cream on bags, as there is a risk excess cream discoloring your clothing.
LEATHER SOLES
Most ATP Atelier footwear has untreated leather soles. If you,like us, live in a climate that more often than not is wet due to rain or snow,we recommend to protect leather soles with a 1-2 mm rubber sole. This will protect your sole, waterproof it, and make it non-skid. If your leather soles get wet, allow them to dry naturally. Support your local shoe maker/repair shop!
AVOID WATER
Most of our products are in a vegetable tanned vacchetta, which is a material very sensitive to water. A damp cloth is totally okay, but never running water. If you are caught in a thunderstorm and your bag or boot is drenched, let it dry for a couple of days preferably with a shoe block or a bunch of paper inside. Without that, it runs the risk of losing its original shape.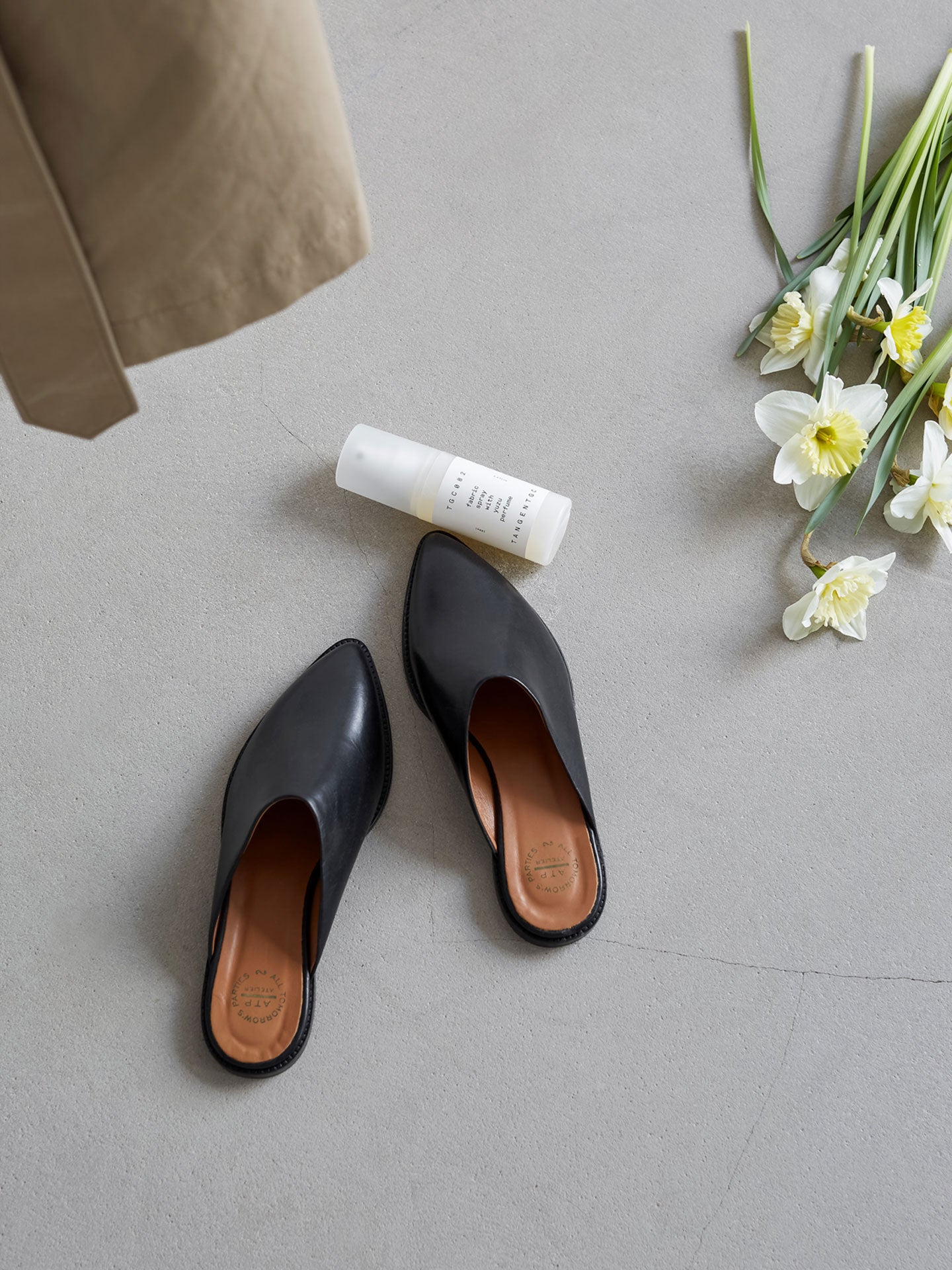 KEEP THE SHAPE
We encourage you to switch between different shoes from day to day. They need a little rest every week. We're sure you can relate. And if you want the shoes to maintain their shape and contour, use a shoe block whenever you're not using them. If your bag gets wet, you follow the same steps to prevent it from loosing its original shape. Exposure to water will create spots. However, the patina created by daily wear and tear will fade and change over time.
DUST BAGS AND SHOE BLOCKS
Whenever you are not using your ATP Atelier bag, keep it in its dust bag. This prevents you or other items from accidentally scratching it. Depending on the color, the leather can also be sensitive to direct sunlight for longer periods of time.
Also, use shoe blocks if you are looking to wear your shoes for many seasons. This might sound silly, but make sure to always zip all zippers (if your shoes has them ofc) all the way up and down. If you don't, it puts a lot of strain on the zipper which might cause it to break or get stuck.
PREPARE SUEDE
Suedes and nubucks are aniline leathers which means that they do not have a protective finish. This in turn means they are not water resistant and sensitive to stubborn staining. We recommend that you spray these materials with a suitable suede protector prior to use. Should your suede pieces come into contact with water, they should be blotted with a dry cloth to absorb any excess liquid asap. A soft rubber suede brush can be used to lightly clean away loose dirt, however due to the delicate and fibrous quality of these materials we advise against rubbing too vigorously as this may result in damaging the surface appearance. Please be aware, due to the nature of this material group, there may be a minimal amount of color transfer with initial use.
STILL GOT QUESTIONS? SHOOT US AN EMAIL AT SHOP@ATPATELIER.COM